ATEX for LIFTAL
First ATEX Certification in Lifting and Hoisting Sector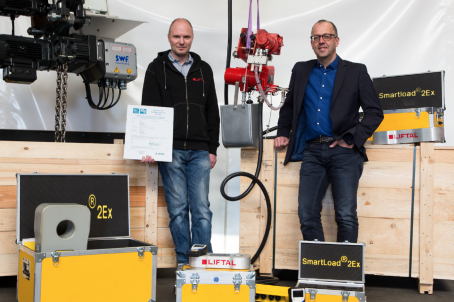 Vlissingen, 30 March 2017 – LIFTAL is the first company in the sector which may call itself ATEX/IECEx Certified Service Facility. This certification sets it apart as the only company which can function as a full partner to the petrochemical, maritime and offshore industries in terms of delivery, installation, inspection, maintenance and repair of explosion-protected lifting equipment.
In these industries, a great deal of attention is given to explosion protection, particularly in sectors threatened by gas and/or dust explosions, such as the (petro) chemical and oil & gas industries. Working with mechanical and electronic equipment plays an important role in this. Many companies forget that it is not only the means of production, but also the various work equipment used, which may pose a risk. This also applies to certain types of lifting and hoisting equipment as well as appliances used in hazardous areas.
Hans Hirdes, Manager of the LIFTAL branch in Vlissingen, explains, "Many of our customers are beginning to recognise this problem and come to us with their questions. Our suppliers often know a lot about ATEX design of their products and about laws and regulations around explosives, but cannot always say exactly the extent to which maintenance conform to them. That made us decide to get the ATEX certificate ourselves. We are now the first and only company in our industry that can prove we work according to strict international legislation in the field of explosion protection. So this means that not only the hoisting products we provide, but also the services we offer related to hoisting, such as inspections, tests, maintenance and repairs, are always explosion-protected. That is a comforting thought."
"The ATEX certification complements our other certifications for lifting and work equipment, such as LEEA," adds Paul Kuipers, Unit Manager Industry and ATEX Officer. Kuipers is the initiator and coordinator of the ATEX project. "The entire certification and training process has taken about six months, but this is actually only the beginning. Each year, DEKRA Certification, the institute which has certified us, will check that we still operate according to the APEX standards, both in our office and also in the field. So there's no question of relaxing."
DEKRA Certification is one of Europe's experts in the field of ATEX/IECEx certifications. Ben van Leeuwen, Project Manager at DEKRA and closely involved in the certification of LIFTAL, says, "In total, there are now about thirty ATEXcertified companies in the Netherlands and LIFTAL is now the first company in the lifting and hoisting sector. A great achievement by which the company demonstrates that it operates using explosion protection within its work area and this provides a good guarantee for its current and future customers."
LIFTAL has offices in Vlissingen (NL), Yerseke (NL) and in Temse (B). It employs around 45 people. The company has been a full-service-specialist in hoisting technology and fall protection since 1997. Activities consist mainly of advice, installation, maintenance, repairs, testing, approving and certifying.